---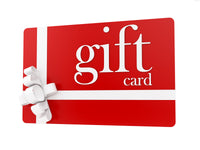 Discounted Gift card with a value of $50 for all leech products and purchases from Leech.com. The $50 Gift Card will be emailed to the buyer by email, after purchase. The gift card has no expiration date. Recipient will be able to redeem the card by entering the card-code at the point of checkout, when shopping for products at Leech.com.
NOTE: This gift card is not-returnable or redeemable for cash.
Live leeches are shipped carefully and if you have any problems with the leeches you have received, be sure to send us an email to: info@leech.com with a picture sent on the day you have received your leech order!