---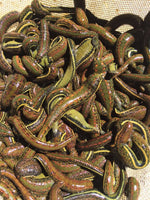 Sale
600 LARGE Leeches
Shipping within 2 days
Note: Upon arrival, immediately transfer your leeches into a jar of cold water. You may use rain or tap water.
If any issues with your order, please send us a picture on delivery day and we will compensate for the damage.
Live leeches are shipped carefully and if you have any problems with the leeches you have received, be sure to send us an email to: info@leech.com with a picture sent on the day you have received your leech order!