---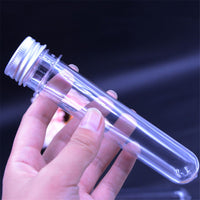 Easy Latch Leech Tube. This is a device designed for easy Leech Latching of your leeches and is without an opening (hole) at the opposite end. The leech tube has a specific use. This leech attachment device is long and rounded at the end. It has a screw cap. The tool is used to aid in the easy attachment of leeches to the subject its going to feed on. This tube can fit up to 20 hungry leeches! 
Material: Clear Plastic (Recommended)
Live leeches are shipped carefully and if you have any problems with the leeches you have received, be sure to send us an email to: info@leech.com with a picture sent on the day you have received your leech order!