---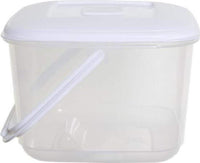 Leech Care Bucket & Leach Lodge
Used to keep over 10 leech pets. Easy handling and transportation device. Very durable, yet lightweight Plastic. Clear see-through material.
6-LITER


Live leeches are shipped carefully and if you have any problems with the leeches you have received, be sure to send us an email to: info@leech.com with a picture sent on the day you have received your leech order!