---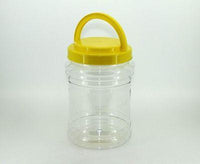 MATERIAL: Durable Plastic (Recommended)
ADVANTAGES: Durable, Lightweight, Wide-Neck, Easy Access, 
See-through, Portable, Easy-to-Carry Fold-in Handle, Suitable for In-Home and 
On-The-Go 
Travel & Leech Care as well as Perfect for Leeches
Ships: in 24 hours!
100% SATISFACTION 
Guarantee!
Live leeches are shipped carefully and if you have any problems with the leeches you have received, be sure to send us an email to: info@leech.com with a picture sent on the day you have received your leech order!