---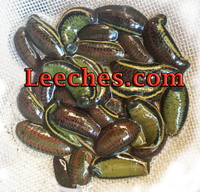 Wholesale Leeches, Worldwide Shipping
Leech Description: This product represents a collection of live leeches.

Leech Breed: The species sold here is Hirudo Verbana. This particular leech variety is a bloodsucking leech of the "medicinal leech" type, which most people use for leech therapy.

Live leeches are shipped carefully and if you have any problems with the leeches you have received, be sure to send us an email to: info@leech.com with a picture sent on the day you have received your leech order!